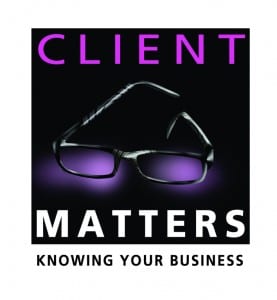 Client Matters is a people-focused business with a common sense approach that is based on a wealth of experience in major corporates and agencies across a variety of business sectors. We began in the Marcomms sector, auditing blue-chip clients such as Shell, Coutts and Carphone Warehouse for high profile agencies.
We soon found that what we offered was applicable and easily transferable to most professional service companies, including solicitors and commercial estate agents, and our business growth reflects this.
Business founder Alexandra Lichtenfeld has spent 30 years in sponsorship, marketing, business development and client services, with 15 years working for Cellnet/BTCellnet and O2. Her role as director of a leading new business development agency and then as managing director at Teeming has given her a unique insight into how and why client relationships can decline because of a breakdown in essential day to day communications. She firmly believes that client relationship building is at the heart of business development and planning – not just around organic growth but also through valuable referrals. She is also a strong advocate for internal relationship building and believes in a very direct approach to this via mentoring senior executives to help them achieve their goals. In doing so, senior executives will gain the language necessary to enhance internal relationships within their specific teams which ultimately will help the business to grow.
Ask one of her clients and they will tell you her key to success…"Alex asks the questions you are too scared to ask directly, but in the interests of your business, you absolutely need to know the answers!"